Cirencester Archaeological and Historical Society
Our next meeting 
Wednesday 22nd November 2023
Making a Living on the Severn Vale: The Invisible Potters of Domesday.
Jon Hart – Cotswold Archaeology
Held in the Ashcroft Church, Ashcroft Road, Cirencester. Free to members and £3 for guests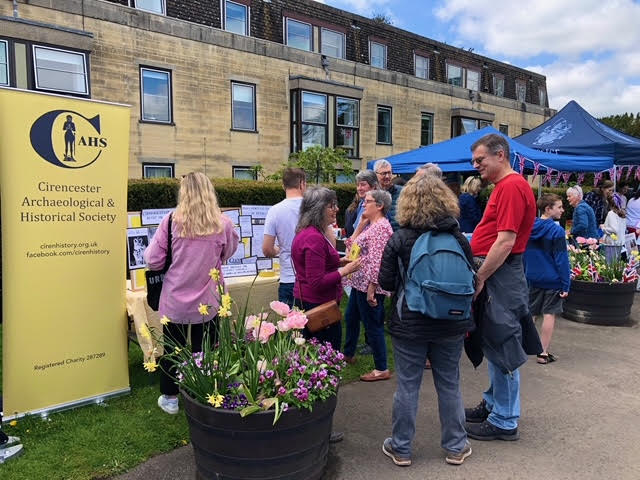 Here we are in action at the 'Lunch in the Park' celebration of the Coronation of King Charles III in the Abbey Grounds on 18th May. We were offering people the opportunity to identify businesses and their locations in the town centre at the time of the last coronation. A fun conversation starter!'
Credit- M Graebe
Social media: We are on Facebook, twitter and Instagram. See links at the bottom of every page. 
There is much to explore on this site.  See Projects, Places to Visit and Publications. If we have your email address, we can send you items of interest from time to time, including occasional  meetings of sister societies.
The demolition and rebuilding of flats off The Avenue, Cirencester, brought an article in our Newsletter 49 of 2009 on public art to the fore. The planning assessment shows much archaeology under the site, believed to be the original Roman town centre. The site has now been rebuilt.
Gloucestershire Archives are always keen to hear about any old documents, maps etc that are coming up for sale by auction in order to bring them to public access. Sometimes they are able to raise money to buy them for the archives before auctions push the price up. Claire Collins is Head of Collections and can be contacted by anyone with any information.
We are still receiving updates and enquiries about our information on those who died and even survived World War I. If you have more information than we have published about any of the people on the Cirencester monuments, do drop us a note.
Know Your Place West now has mapping for Wiltshire, Gloucestershire and Somerset. Maps from about 1840 to date can be compared and after moderation you can add historical information. Do watch the video to see how to use it! Have fun! Tithe maps have been added where they exist.