Filling the open spaces -Ashcroft,
The Brewery, Cotswold Garage and car-parking in Cirencester
David Viner with Derek Porch 
Cirencester's town-centre car parks are often in the news, not always for sympathetic reasons. The charges are too high, it is said; the time limits for parking are too strict, and there isn't enough room anyway. There are any number of such variations on this 20th and now 21st century obsession with 'parking the car', probably the main reason why most people today would give these parts of town a second thought.
But seen in an historical perspective the inherited pattern of spaces now used as car parking today is interesting in itself. The two largest, known still as the Brewery and the Forum, were once substantial open spaces in the very heart of Cirencester. Then undeveloped and little more than the back gardens at the rear of property or 'burgage' plots, they show as just that in maps from the 18th through to the early 20th century. 
The Brewery open space is bounded by Castle Street to the north, Cricklade Street to the east, the Ashcroft development to the south and what was once the old line of Sheep Street to the west. This large area was mostly contained within the property of the Cripps family, centred on Ashcroft House (now gone), and developed from the late 19th century onwards.
Properties and gardens in multiple ownership characterised the Forum, hidden behind Dyer Street, Lewis Lane, and much of Cricklade Street, to which access for its present use was achieved only by a substantial mid-20th century redevelopment project which punched access 'openings' in the street-line, respectively by the Bear Inn in Dyer Street, opposite the top of Tower Street in Lewis Lane, and by what was then the old 'tap' of the Kings Head in Cricklade Street. Each of these 'openings' required the demolition of buildings of varying significance, but all part of the town's historic fabric.
And to complete this quick survey, interestingly the Waterloo car park sits atop similar previously open space at the rear of Dyer Street; and the Abbey and Beeches car parks were formed very much within the private grounds of Abbey House and opposite Beeches House respectively – once the homes of leading townsfolk.
Also, and important to Cirencester, a sea of tarmac acts as great protection for any scheduled ancient monument land sealed beneath – and most of these sites are so protected. That, as they say, is another story. 
Returning to focus on the Brewery, where the development has been greatest, several previous uses within this large area have remained discernible, as glimpses if not more. The name is a clue – Cirencester Brewery once occupied the major part of the site leading in from Cricklade Street, by a route which is still used. What's left now forms New Brewery Arts, accessible to see and enjoy. Its history has also been studied in detail, perhaps best in Joyce Moss's excellent volume in 2009 (copies can still be found!). 
Other parts await such detailed study, and that is to be encouraged. Much of this is within living memory and so is often taken for granted. But it needs to be written down for the record just the same.
Derek Porch sent me his memories a couple of years ago and we've added to them since then. He had spotted an early postcard view of Ashcroft Road in the Cirencester through Time volume (Amberley 2009) showing a car-free street (bliss!) and a sign indicating where Saunders & Sons, significant local builders in their own day, had their yard. 
Derek was born here at 46 Ashcroft Road in 1934, and here's some of what he recalls:
'Having spent my childhood in Ashcroft Road I knew who lived in every house and can even remember when the iron railings in front of the houses were removed for the war effort.' No. 46 is in fact the clue to what came later: 'the gap between Nos. 46 and 48 had been the roadway into Saunders' yard and when I was born the house was split into offices on the ground floor and a flat upstairs', where Derek's family lived.
'The offices belonged to the Cotswold Garage and my father as well as being a mechanic was also caretaker, and for many years after the garage closed down and Mycalex took it over there used to be a petrol pump outside on the path that Dad was responsible for 24 hours a day. Fortunately, there were not the cars around to make this a problem at night but we did have a phone (No. 201) which was very unusual in those early days, and Dad used to get calls from the local gentry who had run out of petrol and needed a top-up.'
The Cotswold Garage had showrooms further along Ashcroft Road occupied until recently by APD motor parts (and actually built by the Garage, perhaps?);  Derek remembers that 'where the small windows are now used to be full-sized windows which were blocked up at the start of the war.'  So Cotswold Garage was quite a substantial town business with directors to match. Kelly's Directory for Gloucestershire in 1931 lists Col C(yril) Chester-Master as managing director with Captain Michael Vernon as another director. At that stage they were listed as 'Automobile engineers and agents (private locks-ups).' 
In fact there may well have been a link with the other main garage of that time in the centre of town, at Bridges Garage in Castle Street. The two sites backed onto each other (evidence of businesses steadily filling up this large open space) and this is where road access to Tesco and its own rear yard is now. Derek recalls that 'my father always told me that these [directors] had been attached to Bridges Garage and that there had been a falling-out and they had set up a business of their own.'
So Saunders' yard becomes Cotswold Garage, separated by only a stone wall from Bridges Garage and its yard – stretching from Ashcroft Road to Castle Street. Today's use of this whole area reflects just that link.
There's another intriguing story linked to all this, which crops up as a query every so often and for which additional information would be welcome. Derek summarises what he knows: 'when Saunders' yard became Cotswold Garage a large hanger-type building was erected. The photograph I have shows the inside of the garage with my father Vic Porch in front and Ernie Hunt wearing the trilby standing behind. Dad always told me that this building was an original hanger from North Cerney airfield which had been dismantled and brought down [to Cirencester] by every vehicle available, mainly by Gus Harman who had his premises at the top of [Ashcroft] Road.'
This was presumably in the 1920s by which time the WW1 airfield had gone out of use. Other sources recall there being two other similar buildings relocated here, but this one is undoubtedly the largest. Harman's building supplies business was housed in another (hence Gus Harman's involvement) which survived until the firm, by then Travis Perkins, removed to Love Lane. Aerial postcard views over the town in the 1950s show the range of large buildings still then surviving. See Cirencester Through Time (2009, p.57) as well.
The Second World War brought its own chapter in this story. The garage site was acquired by Sir Herbert Ingram in order for him to relocate his London factory to Cirencester, where it became a major local employer. Derek recalls that 'the garage had the complete works installed and a lot of the workers were transferred and found houses mainly because Mycalex supplied vital equipment for the war effort.'
Derek's father remained in the flat as caretaker for the new company as well as a driver, making trips to London Docks three times a week in blackout conditions (with the lorry headlights blanked out), and enjoyed staying in the flat after retirement.
We would move into another story with Mycalex's history in Ashcroft before its own transfer up to Love Lane. But somewhere around 1953, the company made a major improvement to its principal building (the old hanger in the photo) by erecting a new permanent building around it and then demolishing the old structure beneath. 
And as part of what became the Tesco development in the late 70s/early 80s, No. 46 Ashcroft Road was demolished to create the new vehicular access into the whole of the Brewery area today, including the car parking which set us off on this story. 
For local historians looking for a project, there's plenty here to get one's teeth into: the whole story of removing airfield buildings from North Cerney down into Ashcroft; the individual business histories of Saunders & Sons, Cotswold Garage, Bridges Garage and perhaps especially Mycalex; and then the way in which Love Lane was developed as an early business park by the removal of such town-centre businesses out to Cirencester's southern edge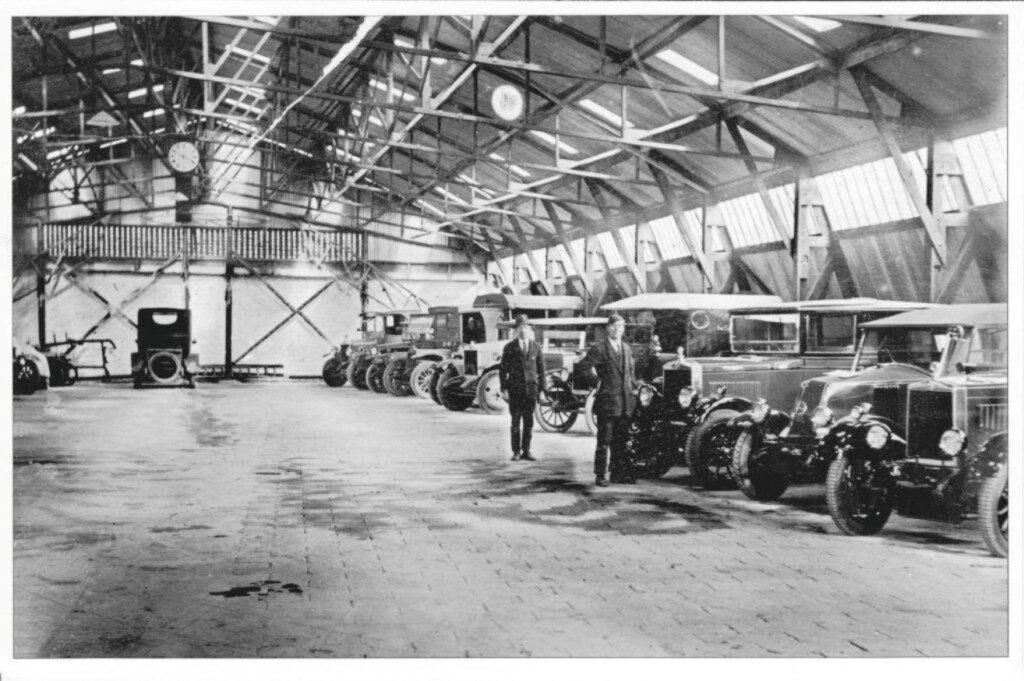 Inside Cotswold Garage Sometime in the 1920's/30's.
Can anybody provide further information or memories? (Photo Derek Porch collection)