Herbert Norris (1859-1931),
Antiquary, Collector and Benefactor – a Huntingdonshire man in Cirencester
(and a surprising tailpiece) 
A fruitful email exchange between the editor and David Birkert of St Ives in Huntingdonshire (now part of administrative Cambridgeshire) brought forth an interesting connection between that town and Cirencester, until now it seems largely undocumented. David has been researching his family history which includes links with the Ovens family of Cirencester, a name well known in the town's later 19th and 20th century commercial life for its household furnishing's shop, removals and auction house businesses in Dyer Street. 
But he was fascinated to uncover another link between Cirencester and St Ives at a lecture given by the curator of the Norris Museum in that town, linking Herbert Norris' role as its museum benefactor with his period as a resident and businessman in Cirencester, where he spent forty years of his life. 
David kindly sent us a copy of research presented as part of the town's Norris Museum celebrations of its 80th anniversary in 2013, which included an exhibition on Herbert's Huntingdonshire. Thanks to Lesley Akeroyd, assistant at the museum, for permission to reproduce from it here. 
As an aside, each town's museum history makes an interesting comparison, especially when we read in Arthur Mee's Bedfordshire & Huntingdonshire volume in The King's England series (1973) that 
"It would be hard in this old town, with all its enchanting places, to find a place surpassing in attractiveness the museum on the river bank. We have seen few museums built so neatly in so fair a place as this." 
Herbert Ellis Norris was born in St Ives on 27 March 1859, the first child of Ellis Norris and his wife Hannah Munsey. At that time, Herbert's father Ellis was in business as a boot and shoe maker in Crown Street possibly with, or close to, another shop run by his brother, George.  Ellis and George had followed the same occupation as their father John Norris as he too was running a boot and shoemaking business in West Street. On his mother's side, the Munseys were staunch Baptists, with Hannah's father, Ellis, serving as a minister at Willingham from 1839 until his early death in 1848.  The Norrises of St Ives were active members of the Free Church. 
Herbert attended Manchester House school, later the St Ives Grammar school. His early interests were in natural history, particularly butterflies, moths and birds eggs and this extended to the history of St Ives and the whole county.  He had other interests too.  A poster advertises a lecture by Herbert on 'The Orbs of Heaven' illustrated with lantern slides in Somersham in 1883.  
An obituary records that he began his career as a jeweller and silversmith with an uncle in Cambridge. This is almost certainly David Munsey (Herbert's mother's brother) who founded the jewellery business bearing that name in 1867 in Market Hill Cambridge. There is no evidence of Herbert serving an apprenticeship as a silversmith nor an assay mark in his name, so it seems likely that he was dealer in silver and jewellery, rather than a designer and maker.
Herbert was also interested in photography, advertising himself in 1886 as a photographer from a studio at Vine Cottage and there are many examples of his photographs of St Ives and elsewhere in the Norris Museum collection.  He also began researching and writing a number of articles on St Ives, Wyton, Hemingford Grey and church bells of the county for the local paper.  In 1888 the Hunts County Guardian published his book History of St Ives. His friend, Beresford Stevens, wrote after his death that 
'these were essentially amateur efforts and in some cases unreliable but did represent pioneer work never attempted before'.  
Herbert seems to have been all too aware of his limitations as in his history of The Village of Willingham, published in 1890, he writes 'These short notes upon the archaeology of Willingham hardly merit publication.  My only excuse is I print them with the hope of pleasing my mother who not long since resided in the village'.  He became a prolific contributor of articles to the newspaper and Fenland Notes and Queries. 
Move to Cirencester
By 1891, now aged 32, Herbert had moved to Cirencester where he was to settle for the rest of his life.  Quite why he left Huntingdonshire for Gloucestershire is not known but he acquired the business of Mr J Seymour Tanner, jeweller and silversmith in the Market Place. Cirencester directories list him there from 1894 through to 1927 at 15 and 20 Dyer Street. When he is listed in the 1901 Census, his business as watchmaker, jeweller and gold silversmith at No 15 was squeezed between Charles W. Smith, chemist at No 14 and Joseph Matthews, tobacconist at no 16. 
It was here that Norris began collecting books, documents, prints, paintings, photographs and objects relating to Huntingdonshire. His library included anything referring to Huntingdonshire or printed in the county, whatever the subject, in fact it is reported that he could not understand why someone would want to buy car when they could buy a medieval document for the same price!  
A photograph of Herbert's study shows the wall covered with drawings, watercolours and photographs by Huntingdonshire artists or of Huntingdonshire scenes and the table and cabinets full of his collection of papers.  Beresford Stevens described the scene as a Huntingdonshire Museum in Gloucestershire. 
Herbert was actively involved in Cirencester life.  He was a founder member and president of both the local Chess Club (writing a guide to the Records of the Cirencester Chess Club 1895-1911) and the Cage Bird Society. He also joined the Bristol and Gloucestershire Archaeological Society as well as continuing his research and writing. He produced transcriptions of documents such as A Great Victory obtained by Collonell Scroope against the Duke of Buckingham at Staint Needs in Huntington Shire on Munday July 10 1648 (1905) and a St Neots trade directory 1792 (1911), compiled lists of printers and booksellers of St Ives, St Neots (c.1900) and Cirencester (1912).  He was an advisor for the Victoria County History of Huntingdonshire, the first extensive history of the county. Not surprisingly therefore his obituary noted that 'it may be said that he was recognised as the historian of his native county'.
Norris' shop at 15 Market Place, Cirencester c.1907
(photo courtesy The Norris Museum, St Ives, with thanks to Helen Giles, Curator)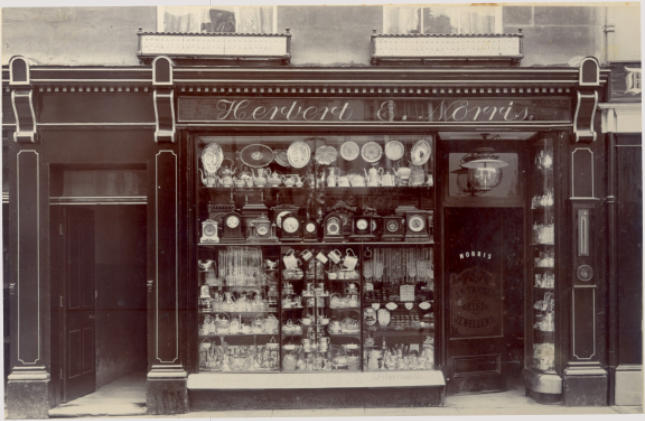 Herbert obviously maintained contact with his home county, and he is listed as an original member of the Cambridgeshire and Huntingdonshire Archaeology Society (1902). Family events naturally called him back to St Ives; with his father's death in 1903 followed by his mother a year later, the family home Vine Cottage was sold under his direction in 1904. Towards the end of his life Herbert seemed to be planning to return to Huntingdonshire as he bought Ferrar House in Huntingdon but he died at his home in Cirencester on what would have been his 72nd birthday in 1931. A fulsome obituary in the Standard appeared under the heading of 'Antiquary and Collector'.
In his will, written 28 years earlier in 1903, Herbert Norris bequeathed his collections together with
the bulk of his estate to St Ives Borough Council. The Council acted on his wishes and proceeds
from the estate were used to buy the site of an old malting and the local architect Sidney Inskip
Ladds was commissioned to design and build a museum and house. The 'Norris Library and
Museum', the title carved in stone above the Museum door, was officially opened in September
1933. It still functions today (address: The Broadway, St Ives, Cambridgeshire, PE27 5NR) in the
ownership of St Ives Town Council. See www.norrismuseum.org.uk.
H.E. Norris, 'The Booksellers and Printers of Cirencester', Gloucestershire Notes & Queries, 1915,
pp.1-16
Obituary in Wilts & Glos Standard, 04 April 1931, p.2
Lesley Akeroyd, 'Herbert Norris, Antiquary, Collector and Benefactor' in The Huntsman, Journal of
the Huntingdonshire Family History Society, no 77, March 2014.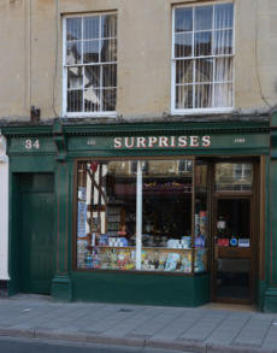 This is the Norris shop today, which you will recognise. In case you think David has photographed the wrong shop, most properties in central Cirencester were re- numbered during the 1930's, no doubt an early bit of Post Office modernisation. Does anyone know the story behind that?