Cirencester's Pubs
This feature is drawn from two articles on this theme published in the Society's Newsletters, viz. 'A different type of thirst? The changing pattern of Cirencester's pubs' in Newsletter 50 August 2009, 3-4, and a review of Cirencester Pubs Through Time by Philip Griffiths, in Newsletter 58 Autumn 2013, 11-12.
A different type of thirst?
The changing pattern of Cirencester's pubs
The current economic recession leaves its mark in many ways. Leading a conducted walk around the town recently for members of Gloucestershire Society of Industrial Archaeology (GSIA, a long-standing sister organisation of our own), I was reminded of a few simple truths, the most obvious of which is that we have all been here before.
Our tour had a social history theme, with what were described as 'gobbets' of surviving industrial and transport history thrown in, a mixture of the vanished, the altered and the recently-redundant. A recurring theme was the strong Victorianisation of the town; another the challenges (addressed with some considerable success in recent decades) to find 'adaptive re-use' for buildings worth keeping. Some places, however, such as the town's former railway station, simply appeared sad.
 Another theme emerged almost in conversation – the still relatively large number of pubs in and around the town centre, each of which when examined a little more closely offered (or used to offer) a microcosm of Cirencester social history, often quite narrowly localised to one particular part of town.
Unlike Cirencester's continuing concentration of eating houses in a few streets around the town centre, of which Castle Street is the most obvious, pubs are where they are for all sorts of historic reasons. Some of these reasons still apply, and still generate customers; in other cases the whole raison d'etre has vanished. GSIA members warmed to the task once they realised how many pub sites we were passing!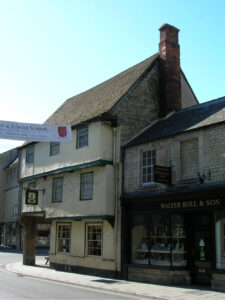 This subject has been well served in the research which Phil Griffiths has been doing for some years now; his notes now being edited into manuscript form discuss dozens of pubs and pub sites. A glance at a few makes the point of their infinite variety, based around a common theme of originally serving drink only, but within wider refreshment and catering options in more recent years.
Earlier Newsletters carried reports on some, including the Anchor in Gloucester Street, where the pub name can still be seen in the floor mosaic of the disused butcher's shop doorway (Newsletter 42, 2001, pp.15-16). In an essay in the Cirencester volume of Ottakars Local History series (2002) Phil also had a good look at The Bell, once a fine courtyard inn at the top of Cricklade Street, the Sun Inn, on a site now absorbed into The Fleece hotel next door, and the Kings Arms, which closed in 1924 and has also been absorbed, this time into the neighbouring Black Horse. Some survive and some disappear; it all depends.
Who would find the Railway Inn today, even though it still forms part of a catering establishment (the Mayflower Restaurant)? Its name gives it away, opposite the railway yards which once lined the original Sheep Street; it was modest, and largely given over to quenching local workers' thirst. Its landlord in 1872 was John Lock, who also made a living by being a carpenter and wheelwright (probably his main trade). Later landlords ran a timber business from the yard behind the inn.
Another example of lost trade was the Hope Inn, at the corner of Querns Lane and Sheep Street, which has for many years now been home to a saddlery business. Architecturally plain, its 19th century vintage is clearly apparent, as a simple 'beer house' without much sophistication. The clue lies in its 1861 designation 'near the wharf' – that is of the Thames & Severn Canal basin across the way in Querns Road. Once the canal business and the coal businesses also based there had declined, the inn lost its particular reason for existence, in this case lingering on until March 1975.
So it continues. Recessions force such changes into the spotlight. The British Beer and Pub Association says 39 pubs in the UK are closing each week, and there's plenty of evidence of that around the country. Cirencester has recently lost one for good, the Woodbine in Chesterton Lane (to be demolished for housing development) and at least one other stands empty, facing an uncertain future.
The Royal Oak at the top of Gloucester Street is a classic example of changing times, struggling to compete without car parking or modernisation. Others may yet follow. In 1875 the town had around fifty pubs; today it has around twenty, which includes all the hotels. Many of these, such as the Bear, the Crown and the King's Head right in the heart of the town have a long pedigree back to at least the 17th century and often earlier.
The Bear is a case in point. Still thriving, it dates back to at least 1540, its large timber-framed frontage to Dyer Street a sign of a building of some antiquity. Its deeds, always a fascinating source of information if they survive, go back to 1686. In the 19th century it was a much-used farmers' meeting place (the old livestock market remaining in the Market Place until 1867). Here the Cotswold Ram Breeders met, that group of now-renowned names of farming families such as the Garnes, the Lanes and the Hewers who bred and ensured the survival of the distinctive Cotswold breed of sheep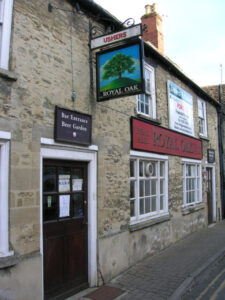 But it is perhaps the smaller more scattered pubs, once to be found in the side streets and even suburbs of the town, and often close to the commercial or industrial premises which provided their drinking clientele, that have been quietly disappearing from the scene for decades now. Much is made of the quality of the beer and associated range of drinks provided, but there is an equally important study of town history to be had by simply looking at the pubs themselves, their special character and the customers who drank in them.
David Viner
Cirencester Pubs Through Time –
Book Review
by Philip Griffiths, published by Amberley Publishing, 2013, £14.99 & ISBN 978-1-4456-1706-0
Our long-standing member Philip Griffiths has achieved an equally long-held ambition to see his many years of researches into the inns and pubs of the town suitably published, and we are delighted this has now been achieved with this latest local title in Amberley's Through Time series, which appeared on the bookstalls in July.
Philip kindly allowed us to dip into his book's Introduction to show that it's well worth acquiring a copy, and would make an excellent Christmas present for anybody with local connections!  Philip writes: 
'This is not a pub crawl. We are now encouraged to drink responsibly, but with this volume clutched in one hand this walking tour will lead you through the streets of Cirencester to open doors and, if timing and inclination gel, please enter and support the survivors while raising a glass to those pubs that have called last orders. 
There are those pubs and inns which exist in documents and deeds but their precise location is not known – unless you know differently and can help locate the missing! The losses can be judged by study of a document preserved in the Gloucestershire Archives dated c1800 listing 73 pubs in the seven wards of the town. Of these 41 are reported as 'suppressed' at that date. No reason is given but the justices of the peace must have considered that Cirencester had a sufficiency of ale and beer retailers. A loss of income for all concerned but perhaps rowdy behaviour and drunkenness were stronger social issues.
Over the centuries the number of pubs has fluctuated. The Alehouse Recognizance of 1755 lists the names of 53 victuallers who were licensed to sell beer. An increase to 73 in c1800 with 41 suppressed brought the total down to 32, comparable with the number open in 1964. Local directories are a useful source for detail and the 1820 publication by Gell & Bradshaw draws a distinction between inns (7), and taverns and public houses (28). 
Before the opening of the Great Western Railway in 1841 travel by coach and on horseback demanded adequate stabling provided by inns such as the Booth Hall, Crown, Fleece, King's Head, Ram, Swan, and White Hart. 
Brewing in the eighteenth and early nineteenth centuries was a very local process and hop merchants and coopers supported the maltsters and brewers in the town. Much of the beer and ale brewed travelled only the length of the burgage plot before consumption, and 'home' brewing for sale was often a secondary occupation or undertaken by the wife of the licensee.
In 1820 Robert Haviland in Dyer Street was the sole distiller in the town, while a directory of 1784 included three wine merchants. Three families – Masters, Cripps, and Bowly – developed their own breweries in the town before take-overs by the larger national brewing conglomerates. Malting in Cricklade Street ceased in 1980.
What's in a name? The earliest names recorded from 1540 include Angell, Antelopp, Bell, Bere, Crowne, Hartished, Katheryn Whele, Kings Head, Lyon, Pound of Candles, Ramme, Swan and Talbott. The last of these illustrates a note of caution. Today's Talbot in Victoria Road is firmly Victorian in date. Its earlier medieval namesake was in Park Street. Re-use or change of name can lead to confusion.
Pub names are often related to trades, animals and birds, or historical and royal connections and are a fascinating study in themselves. For the survivors this book will reveal their locations. Those lost, or of which little is known, include the Bush & Candles, the bush a common symbol to indicate a drinking house. Trades were represented by the Butchers, Farriers, Masons, Plasterers, Slatters, Stonemasons and Waggoners who have all supplied their Arms, while Horse & Groom, Plough, Pot of Four Combers and Three Tuns hint at other professions and trades.
Birds, animals and fish were represented by the Black Spread Eagle, Crow, Pelican, Black Dog, Fox, Greyhound, Hare, Hart's Head, Lamb, Lion, Three Cats Heads, White Horse, and Salmon.
To complete the list, the precise location of the following remains a mystery: Angel & Lamb, Bowling Green, Bridwell, Catharine Wheel, Chequers, Conduit, Crown & Thistle, George, Green Man, Halfe Moon, Jacob's Well, Mitre, New Conduit, New Inn, Pound of Candles, Seven Stars and the Three Bottles Tavern. Now that would have been a pub crawl!
The saddest losses are those still fresh in the memory and since 2000 the Royal Oak, Woodbine, White Lion, Queen's Head, Foresters' Arms and King's Head have closed, all converted to private houses except for the last which is desperately seeking a knight to refresh its market face. [Editor: the story of the King's Head moved on considerably after this was written and the Hotel is now open again and fully refurbished. See Newsletter 59 Spring 2014, 1-8 for a detailed study]. 
Delving into deeds and documents has been rewarding and frustrating. The wills and inventories of inn-holders in the seventeenth century illustrate the outlay and cost involved. The inventory for William Barker in June 1677 listed 6 hogsheads and a half with 'bear' in them, 4 hogsheads empty and 3 small barrels. His brewhouse contained a brewing furnace, mault mill and one leaden pipe. A hogshead was a 54 gallon cask, so this must have been quite an undertaking. Do you have deeds for William Barker which would help to pinpoint his brewhouse? Much remains to be researched – please help fill the glass.'
Philip Griffiths and David Viner