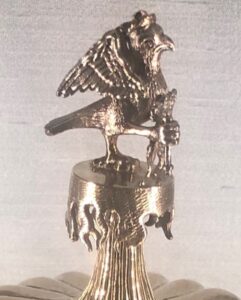 The Annual Croome Lecture
The Tudors and Anne Boleyn
By Leanda de Lisle
on 25 February 2015
While the story of the Tudors currently enjoys national prominence on television, it was at this year's 47th Croome Lecture in the Parish Church that the historically rigorous tale of lust and violence was brought to life. The annual Croome Lecture is jointly arranged by Cirencester Civic and Archaeological & Historical Societies in memory of prominent local churchman Will Croome who died in 1967, and it has been held every year since 1969. This year's lecture was delivered by Leanda de Lisle, a well known writer for historic publications and national newspapers. 
Leanda eloquently explained the humble origins of the Tudors and the slightly comic manner in which the name came to prominence. A Welsh commoner, Owen Tudor, fell while dancing into the lap of Henry V's widow, Catherine of Valois: it was this that ultimately led to their marriage. When their grandson defeated Richard III at Bosworth, he was crowned King Henry VII on the battlefield. This violent beginning to the Tudor dynasty continued in similar vein. 
While they successfully did away with other rivals, close relatives included, producing male heirs proved more difficult. It was Henry VIII's forceful measures to produce a son that brought about Cirencester's connection to the Tudors, The Anne Boleyn Cup. This was made in 1535 and has lived in a glass safe in the Church since 1968. 
John Lawrence, a Church Guide ,told the story. Its journey to Cirencester began with Henry VIII's first wife, Catherine of Aragon who was Catholic. Henry broke away from Rome to divorce her and marry Anne Boleyn. 
The Act of Supremacy made him Head of the Church in England and he closed the monasteries to obtain their wealth. Anne Boleyn managed only to produce a female heir, Queen Elizabeth I.
Following the reversion of Cirencester Abbey, Dr Richard Master, physician to Queen Elizabeth, purchased the land from her and built 'a fine seat, with handsome gardens' on the site, now the Abbey Grounds.
Although it is known that Richard Master exchanged New Year gifts of Plate with Queen Elizabeth, there is no record of the Cup passing from Anne Boleyn to Queen Elizabeth, nor of it being given to Richard Master and thence to Cirencester Parish Church.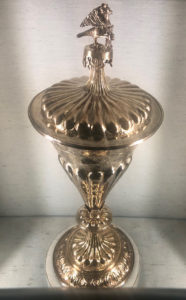 However, a Cup is first mentioned in the Church's Vestry Book in 1614, identified in 1633 as 'one little gilt cupp with his cover and case & one brazen Eagle (falcon badge)' This badge is personal to Anne Boleyn.
Experts are now satisfied that the Falcon finial is both genuine and contemporaneous with the Cup. While accepting that the early history of the Cup is obscure, the legend of how it came to Cirencester is likely to be accurate.
This report by Martin Portus was published in Wilts & Glos Standard, 12 March 2015